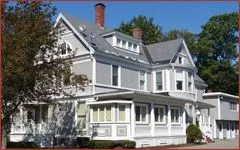 Dentist in Bangor, ME
Our staff is a Team dedicated to providing you the highest quality dental care. We think of our staff as family and are very proud and grateful for their many years of dedication. We take pride in the care, kindness and skills with which they give to each patient. Our office has a reputation for excellence and we believe that good dental health requires a partnership between the Patient, the Hygienist, the Doctor and our entire dental Team. We are fortunate to have the skills of a prosthetic dental technician on our staff who works hand in hand with Dr. Brookings to create high quality complete and partial dentures, crowns, bridges and implant prosthetics.
We are committed to keeping up to date and educated in dentistry and that is why Dr. Rob and all of our staff are regularly involved in continuing dental education. You'll appreciate our use of the latest materials, modern treatment techniques and technologies. Our goal is to help you achieve and maintain the best oral health possible. We want to help you to feel better, look better and keep your healthy smile for a lifetime.
---
Dr. Robert L. Brookings (Dr. Rob)
Dr. Brookings practices the fine art & science of dentistry with the experience and care to provide you with the best cosmetic & restorative dentistry. His skill and artistic talents are most evident in the beautiful cosmetic dentistry that enhances his patient's smiles everyday using state of the art technology.

Dr. Rob has been caring for patients in our community for over 25 years. He is a native of Bangor and attended the University of Maine and Tufts University School of Dental Medicine, graduating Summa Cum Laude.

He joined the practice of his father, John, enjoying five years of practicing together before retirement. Dr. Rob carries on the tradition of gaining the respect of both his patients and his peers.

Continuing Dental Education is an important part of being an exceptional dental professional. Dr. Brookings and his staff continually attend educational conferences and advanced training to enrich their skills and techniques.

Dr. Rob is proud to be a member of the American Dental Association, Maine Dental Association, Academy of General Dentistry, Penobscot Valley Dental Society, the OKU Dental Honor Society and serves on the Leadership Council of the Maine Donated Dental Services.
He lives in Bangor with his wife Denise and their three children. Dr. Rob enjoys being with his large extended family, the beautiful Maine seasons, boating, skiing, and many outdoor summer and winter activities.
he best oral health possible. We want to help you to feel better, look better and keep your healthy smile for a lifetime.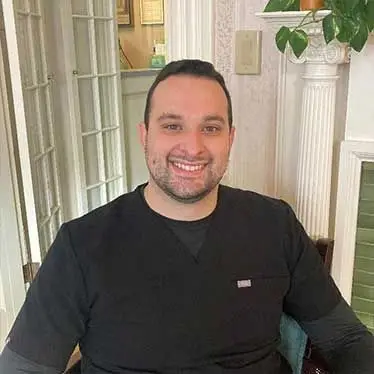 Dr. Robert T. Brookings (Dr. Robby)
Dr. Robby joined the great team at Brookings Family and Cosmetic Dentistry in July of 2020. Alongside his father, he is excited to promote healthy oral hygiene habits and provide comprehensive care to our great patients here in the Greater Bangor area.
Dr. Robby and the team at Brookings Family and Cosmetic Dentistry strive to provide the very best in Dental care. As such, they frequently attend continuing education courses and are continually learning the latest techniques and information to help take care of your oral health.
Dr. Robby is a proud member of the American Dental Association, Maine Dental Association, Penobscot Valley Dental Society, and the Academy of General Dentistry.
He grew up in Bangor, and attended Bangor High School (Class of 2012). While at BHS, Robby was a three-sport athlete, competing in Soccer, Basketball, and Tennis. Robby continued his studies at the University of New Hampshire (Class of 2016), in Durham, NH, and graduated with a BS in Biomedical Science: Med/Vet Science. At UNH Robby was an active member of the Pre-Dental Club, as well as a member of the Ski and Snowboard club, and was on the practice team for the D1 UNH Women's Basketball team. Dr. Robby then moved on to Dental School in Boston. While at Tufts, Robby was a Community Service Representative for his class from 2016-2018. He received his D.M.D from Tufts University School of Dental Medicine in May of 2020.
When not at the office, Dr. Robby enjoys spending his time enjoying the many wonders that Maine has to offer, skiing at Sugarloaf and hiking in Acadia National park, as well as spending time with loved ones.
Dr. Robby is excited to continue the third generation of the tradition of excellence that has been cultivated here at Brookings Family and Cosmetic Dentistry by both his father and his grandfather.
---
Practice Manager and HIPAA Compliance Officer

Emily began her journey with Brookings Family & Cosmetic Dentistry as a patient when she was just a little girl and has been working with the practice since 2016. She is always excited to help with any financial concerns and insurance questions. She's also there to help scheduling with any restorative needs. 

Scheduling Coordinator

Tracy started in the dental field in July 2020 and joined our team in February 2021. She enjoys helping people and is available to assist with scheduling or other questions you may have. Her spare time is spent enjoying the Maine outdoors and traveling. She lives in Old Town with her husband and amazing rescue and foster dogs.

Front Desk Administrator & Dental Assistant

Chrissy brings 14+ years of experience as a Certified Dental Assistant. In her free time she enjoys adventures around our beautiful state of Maine and time with her family. Chrissy was born and raised in Winterport and is still a proud resident there. She lives in Winterport with her husband Owen, daughter Ellie, and dog Baxter.

Dental Hygiene Assistant

Lynn first began working as a dental assistant in 1995. She took some time off to be with her 2 sons. She has worked many years at the front desk, now she has transitioned to helping the dental hygienist and dental assistants to best meet the hygiene needs of our patients.

Dental Hygienist

Lori graduated from hygiene school at the University College of Bangor in 1986 and has been with our practice ever since. Lori has a wonderful rapport with her loyal patients and has enjoyed getting to know them over the years as well as helping them with their dental health.

She is married and has two daughters.

Dental Hygienist

Denise has been a part of our practice since her graduation from Dental Hygiene School in Bangor in 1986. She had the privilege of working for Dr. John Brookings for a few years and then for both Dr. John and Dr. Rob until 1994 when she took a leave from the practice to be home with her three children. She returned to the practice in 2007, working part-time enjoying the fun team and taking care of our wonderful patients.

Dental Hygienist

Meghan was born in Denver, Colorado but grew up in Orrington, She graduated from John Bapst. She has been a hygienist for 10+ years graduating from the University of Maine Augusta - Bangor Campus. She now lives in Holden wither her husband, son, dog and 2 cats. In her time out of the office she enjoys reading, camping and cooking (which Team Brookings can confirm she is really good at!)

Dental Hygienist

Keely grew up right in Bangor, graduating from Bangor school. She began her dental career as a certified dental assistant graduating from UMA Bangor in 2016. Wanting to further her knowledge and passion for dentistry, she went back to school and graduated as a registered dental hygienist in 2020 from UMA Bangor. Keely resides with her husband, two dogs, and four cats. In her free time, you can find her camping, on an ATV, listening to music, or spending time with friends and family. Keely enjoys educating patients about oral wellness and being able to get to know and take care of her amazing patients!

Dental Hygienist

Colleen graduated with a bachelor's in science from Lasell College and with an associates in dental hygiene from Mesa Community College. She has been a hygienist for 9+ years. She lives in Hampden with her husband and 3 sons where she also represents the town on the RSU 22 School Board of Directors. In her spare time, Colleen enjoys reading, cooking, and exploring the Maine outdoors

Dental Assistant

Karen attended Northern Maine Community College in Presque Isle , Maine and earned her Certified Dental Assisting certificate. Karen and her Husband Craig have two sons, Kyle, Keith and a daughter Courtney. Kyle and his wife Megan, and 3 beautiful grandchildren! Karen enjoys the ability to help others have a better quality of life by helping them to restore more than a smile!

Dental Assistant

Casey has been a dental assistant for 15+ years and is also responsible for the designing and milling of our CEREC Crowns. She is always excited to help with your restorative needs in helping to keep your smiles happy and healthy. She enjoys the calm atmosphere that Brookings Family & Cosmetic Dentistry provides for their pateints.

She is married with 4 children and 2 dogs.

Dental Assistant

Photo and bio coming soon!